Vacation Ideas - Specifically for Families
These vacation ideas are really aimed at pleasing the kids! Lots of scheduled activities. Nearly all guests will be comprised of families with children.
Sesame Street at Beaches Resorts
Starting September 2004, Sesame Street is going to be at all Beaches Resorts.
Parenting Seminars
Character Parades
Character Dining

Special Story Time
Dancing with Zoe
Cooking with Cookie Monster
Beaches Boscobel - Ocho Rios, Jamaica - Rating 5 Golden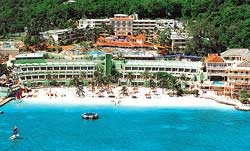 The family that plays together, stays together. And Beaches Boscobel, gives families more ways to play. But they also know there can be too much of a good thing. So the resort gives families ways to pursue separate interests, too. Beaches Boscobel has created a paradise without worries, where everything you can imagine is included. At Beaches Boscobel, everyone can get away from it all, when they get together in Paradise.
Beaches Negril - Negril, Jamaica - Rating 6 Golden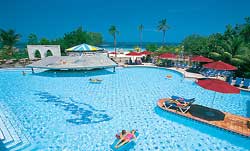 Jamaica's ultimate all-inclusive for everyone, Beaches Negril, is set on the widest stretch of Negril's famous seven-mile beach. 20 lush acres offer everything on land and sea from tennis and a state-of-the-art fitness center to scuba diving, snorkeling, windsurfing and waterskiing. Two pools including a main pool with swim-up bar, 5 gourmet restaurants on property plus 3 more at neighboring Beaches Sandy Bay, supervised Kids kamp activities, a video games Games Center, mini golf, Big Top Amphitheater for nightly entertainment, 7 bars serving unlimited premium drinks including a lively piano bar, a full-service European spa* at neighboring Sandals Negril, and true beachfront rooms & suites, all make Beaches Negril the hottest spot for the very cool...of all ages.
Beaches Sandy Bay - Negril, Jamaica - Rating 4 Golden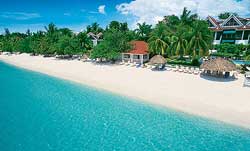 Now you can have Beaches quality at budget prices. Considered the quiet side of paradise, along Negril's famous seven-mile beach, Beaches Sandy Bay is warm and friendly with charming beachfront rooms and suites, 2 cool pools, scuba snorkeling, waterskiing, tennis, 3 oceanview restaurants plus the "Stay at One, Play at Two Program", with Beaches Negril, you will enjoy a total of up to 8 restaurant choices. Kids get their own vacation with supervised activities and a state-of-the-art video games Games Center while adult guests have the option of the full-service European spa* at nearby Sandals Negril. Beaches Sandy Bay... "in" spot for great vacation value.
Beaches Turks and Caicos - Turks and Caicos - Rating 6 Golden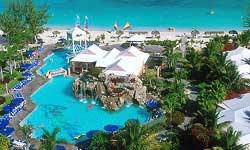 Set on 12-miles of unspoiled white-sand beach, Beaches Turks & Caicos is "The Last Of The True Exotics" and one of the top 5 scuba diving and snorkeling destinations in the world. This pristine resort is home to clear waters in a hundred different shades of turquoise, a total of 10 specialty restaurants, and a European spa.* Kids get a vacation of their own at Pirates Island, an action-adventure themed waterpark with everything from waterslides to a huge Pirates island, an action-adventure themed waterpark with everything from waterslides to a huge pirate ship, state-of-the-art video games Games Center, and a 50's style diner. Another unique feature of the resort is The French Village, bringing Parisian elegance to the tropics with 3 gourmet restaurants and more. Beaches Turk & Caicos...for those who prefer to separate themselves from the crowd.
Disney Cruise Line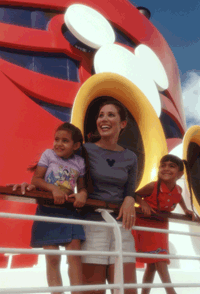 Escape on a fantasy unlike anything you've imagined. A Disney Cruise Line® vacation. Here, adults find excitement and indulgence. Children have the time of their lives. And all make memories to last a lifetime. So start planning your Disney Cruise Line vacation today, and set sail on a dream.
Cruised before, but never with Disney? Then get ready for the Disney Difference. It begins with their famed quality service, and is enhanced by the magic and wonder that happens only at sea on a Disney cruise.
There's something for everyone onboard, from original programs for kids and teens to activities and areas designed especially for adults. Take a seat in this floating showplace designed for the most magical theatrical presentations ever performed at sea. Disney's own private island retreat offers rest, relaxation and adventurous excursions on a beautiful and exclusive Bahamian oasis. A different dining experience every night of your cruise with three uniquely themed restaurants, each offering its own special menu of tantalizing cuisine. Family-Sized Staterooms - Every detail has been considered to give you the utmost comfort and convenience in a floating home away from home.
FDR Pebbles - Falmouth, Jamaica - Rating 4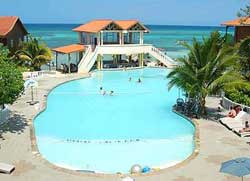 Your family will love the wooden cottage ambiance and the natural surroundings at Pebbles. The cedar aroma of your deluxe junior suite on the beach is special; reminiscent of good times with the family. This small, all inclusive resort offers the best of family activities and kids' programs with a touch of adventure. The staff guest ratio of 1:1 ensures that each member of your family will experience an exceptional holiday. Your small kids will have their own Vacation Nanny. Your teens will make friends that keep in touch long after the reggae dancing and scuba dives are memories. You will relish lively entertainment, cool hammocks, great drinks, exciting food and excursions too.
Franklyn D. Resort - Runaway Bay, Jamaica - Rating 4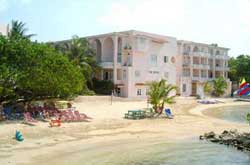 Choose Franklyn D Resort for an incomparable, all inclusive holiday at Jamaica's finest, all suite family resort. Small and intimate, with a staff guest ratio close to 1:1, with the best Vacation Nanny service anywhere, with superb cuisine, including all the activities and amenities that you would expect to find only at larger hotels - from sports to spa, shops to scuba, you will enjoy a level of caring found at no other resort in the world. You will love that your kids are so busy and having such a good time. You will relax knowing that everything is taken care of. We look forward to welcoming you soon.
Vacation Ideas - Family Friendly
These resorts offer activities for children. A significant number of guests will be comprised of families with children. All of the resorts listed below are "Family of 5" friendly. You will not need to split rooms if you have a family of five. You will not need a suite. In other words, you will save money!
Aruba
La Cabana - Rating 5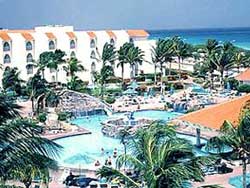 The massive La Cabana All Suite Beach Resort offers the best of Aruba! Stretched along the powdery white sands of Eagle Beach, this exciting resort is just minutes from Oranjestad and the airport. Families will love the comfortable suite accommodations, and guests of all ages are sure to enjoy the non-stop whirl of thrilling activities. Spend your days on the tennis courts, in the fitness center, or lounging in one of the three large outdoor swimming pools. Relax along the shores of Eagle Beach, complete with lounges, tiki huts, cabanas, and an amazing selection of watersports and activities for guests of all ages. In the evening, enjoy one of the nightly shows in the Tropicana Showroom or try your luck at the Royal Cabana Casino. An Optional All-Inclusive Plan is available, featuring all meals daily (at designated restaurants), unlimited drinks (house brands, at hotel bars), a snorkel cruise and watersports. 803 air-conditioned suites.
The Mill - Rating 3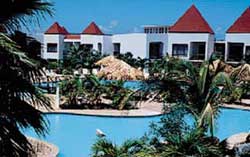 The Mill Resort and Suites Aruba offers casual elegance and spacious comfort amidst lush tropical gardens at this 200 room resort. Across the street from white sandy Palm Beach, the apartment style resort offers a variety of accommodations ideally situated within walking distance of casinos, restaurants, discotheques, night clubs and shopping galleries. The combination of Caribbean hospitality and Dutch management guarantees you and your family an unforgettable vacation experience.
Cancun
Ambiance Villas - Rating 4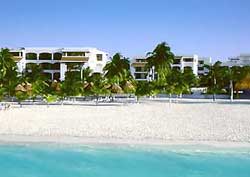 Introducing a new and unique concept, Ambiance Villas features the largest suites in Cancun, including tastefully and comfortably furnished studios with kitchenette and 1, 2 & 3 bedroom suites with complete kitchens, incorporated into a full-service resort. According to Discovery Channel, Ambiance Villas is situated on the best beach in Cancun, located a block away from shopping, dining and exciting nightlife, and a 3-minute drive from the renowned Pok-ta-Pok 18 hole championship golf course. The resort is ideal for families, seniors, affinity groups, couples, and for long stays. Ambiance Villas is designed to provide a sense of intimacy among its guests and emphasizes space and comfort as its distinctive qualities. 150 air conditioned suites.
Beach Palace - Rating 5 Golden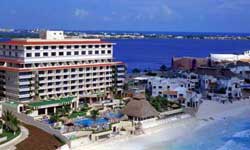 The Beach Palace is an oceanfront All-Inclusive resort that is centrally located in the heart of the hotel zone and 15 minutes from downtown. Sit back, relax and enjoy the wonderful beach while the kids are being taken care of the exclusive Kids Club. This cozy hotel offers 205 air conditioned rooms with either double or single whirlpool, 3 restaurants, swim up bar, non-motorized watersports, tennis court, fitness center, daily activity program and theme nights. Stay at one, enjoy all Palace Resorts
Blue Bay Club - Rating 3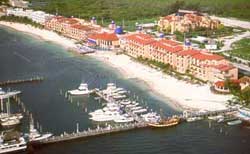 The Blue Bay Club is a hacienda style resort that is located outside of Cancun past a residential area where ferries cross to the island of Isla Mujeres. Vila style accommodations line a beach with a swimming pool and raised sun deck overlooking the sea. This resort is ideal for families on a budget who seek an affordable vacation. There is a boat or bus shuttle to the Blue Bay Getaway for Adults, so as to combine the two resorts into one (Note: children are not permitted at Blue Bay Getaway). 160 air conditioned rooms.
Crown Paradise Club - Rating 5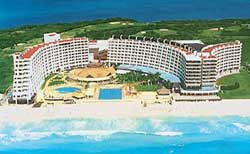 An amazing All-Inclusive resort, The Crown Paradise Club has so much to offer! Always Family-Friendly, kids under 12 Stay, Play, and Eat Free, plus they have their very own Kids Club, featuring supervised activities and a fantastic aquatic park with private pools and three waterslides. Babies have their own nursery under the watchful eye of experienced caregivers, so Mom and Dad can enjoy their vacation without the stress of worrying about the kids. A true paradise found, guests of this exciting resort will discover four pools, a white sand beach, turquoise sea, and fabulous selection of specialty restaurants. Visit the intimate alcoves of Los Gallos for authentic Mexican cuisine, enjoy a steak or even a mechanical bull ride at Wayne's Boots, or swing to the beat of live music in the adults-only 50's Dinner Club.
Marriott Casa Magna - Rating 6 Golden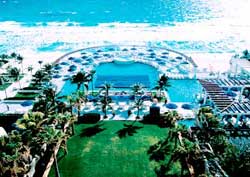 AAA 4-Diamond Award Winner. A dazzling work of art with Grecian columns, Roman arches, domes, marble floors and chandeliers - elegance blended with comfort. A beautiful pool which contains a mega-size Jacuzzi is enhanced with a backdrop of the mesmerizing Caribbean! Absolutely one of the top luxury hotels in Cancun! 452 air conditioned rooms.
Omni Cancun Hotel and Villas - Rating 5 Golden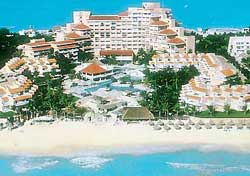 The Omni Cancun is a combination of modern Mexican and traditional architecture, beautifully orchestrated with outstanding decor. The lobby bar with painted fresco ceiling and marble flooring is a sample of this truly unique luxury Resort. A private Jacuzzi pool in a Tiki setting for adults only is a magical retreat, and lush palms over a sweep of white beach, will introduce you to a tropical Paradise. Dine at La Paloma Restaurant in true Mexican warmth or the Pina Colada a beachfront eatery. Weekly theme nights include Mexican Fiesta, Beach Party, Seafood Buffet, Steak Night Grill, Cajun, andTex-Mex. Da Vinci, a gourmet Italian cuisine, in an intimate setting with replicas of the masters inventions and artwork features an excellent wine cellar. 353 air-conditioned rooms. Optional All-Inclusive Plan is also available.
Cayman Islands
Wyndham Sunshine Suites in Grand Cayman - Rating 3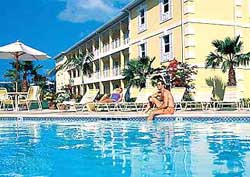 Located in the heart of the Seven Mile Beach area adjacent to the Links at Safehaven Golf Course, the AAA Three Diamond All Suite Resort features full equipped kitchens and award winning tropical decors in all rooms. Choose from studios, deluxe studios and one-bedroom suites luxuriously furnished with modern amenities. Unwind at the new Sunshine Bar and Grill, where complimentary continental breakfast is served in a casual pool-side setting and savor delicious fish, burgers and salads for lunch and dinner. Enjoy complimentary use of World Gym (nearby) and transfers to the Links Golf Course with preferred discounts on greens fees and golf cart. Experience the exceptional service and comfort that makes Wyndham Sunshine suites the best lodging value in Grand Cayman.
Cozumel
El Cozumeleno Beach - Rating 4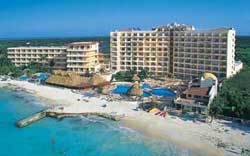 This beautiful All-Inclusive resort is ideally located on one of the nicest and sandy beaches of Cozumel Island with a delightful view of the crystal clear waters of the glorious Mexican Caribbean. Most of the El Cozumeleno Beach Resort is a two-tower beachfront property with an art-deco ambiance. All the rooms have a balcony or terrace and most of them are ocean view. Remodeled and expanded, this delightful All-Inclusive is ideally situated along a picturesque stretch of powdery white sand beach, directly facing the crystal clear waters of the glorious Mexican Caribbean. Experience incredible snorkeling courtesy of the on-site Dive & Water Sports Shop, lounge beneath warm tropical rays within the cool waters of one of two spectacular outdoor swimming pools, and relax within the comfort of beautifully decorated, fully appointed guestrooms. Children can create memories of their own at the professionally staffed Kid's Camp, offering games and activities designed especially for them. Enjoy extraordinary sea views from El Cocal Restaurant, gourmet a la carte cuisine at La Veranda, and tasty poolside snacks in a relaxing atmosphere at Las Bananas Snack Bar. Only 5 minutes from the airport and downtown, guests are just across the street from the brand new 18-hole Jack Nicklaus-designed Cozumel Country Club. At El Cozumeleņo Beach Resort, let yourself be pampered beyond imagination! 252 air-conditioned rooms.
Jamaica
Holiday Inn Sunspree Montego Bay - Rating 5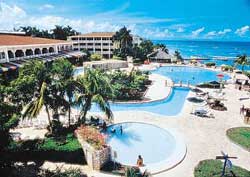 The Holiday Inn SunSpree Montego Bay Resort is an ideal vacation retreat for singles, couples and families. Spend relaxing days enjoying the large, interlocking swimming pool, four tennis courts, a variety of watersports and live nightly entertainment at this superb beachfront location. Located eight miles from downtown and seven miles from the airport, this resort is set on a half mile of white sand beach within the historical Rose Hall Plantation Estate. 524 air-conditioned rooms.
Renaissance Jamaica Grande - Rating 5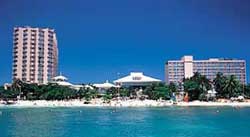 Come experience the excitement and grandeur of one of Jamaica's most complete resorts! Stretched along 1300 ft of prime Ocho Rios beachfront, the Renaissance Jamaica Grande features an ideal location near duty-free shopping and excellent sightseeing. Amenities include three pools, a watersports center, health club, fitness center, lighted tennis, mini casino, nightly entertainment, disco, theme parties and a children's program. 708 air-conditioned rooms and suites.
Sunset Beach Resort and Spa - Rating 5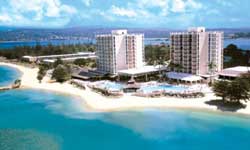 Nestled along its own private peninsula and cradled by the shores of a soft white beach, this All-Inclusive retreat is ideal for singles, couples or families. Reflecting true Jamaican spirit, this totally renovated property offers all the privacy and seclusion of a remote island getaway. Cherish sweeping ocean vistas from the spectacular open-air lobby, stroll along one of three private beaches (including one set aside for au natural bathing), or relax with an exotic beverage beside one of the hotel pools. Visit the health spa or test your skills in a game of tennis while the kids make new friends in the supervised Mini-Club. Offering something for everyone, this fantastic resort is only minutes from the airport, shopping and nightlife of Montage Bay! 420 air-conditioned rooms and suites.
La Romana
Santana Beach Resort and Casino - Rating 4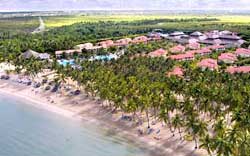 Looking for a fun-filled family vacation? A romantic honeymoon getaway? Either way, this tropical treasure could be just the place. This hotel's colonial design offers spacious and comfortable accommodations - all for an affordable price! Explore the immense free-form pool or stroll through the charming shops in the village nearby. By night, sway to merengue rhythms at the disco or try your luck at the casino. The inclusions and activities are extensive!
Manzanillo
Karmina Palace - Rating 6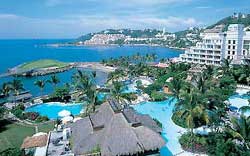 The Karmina Palace is an All-Inclusive, all-suite luxury resort nestled between an 18-hole golf course and the sunny Pacific coast. Stretched along the Las Hadas Santiago peninsula, this magnificent resort offers the highest standards in luxury, service and quality, with an exotic design modeled after the majestic pyramids of the ancient Mayans. Spend peaceful days along a broad stretch of tranquil beachfront, or refresh yourself within the calm blue waters of the Pacific. You will enjoy spacious, comfortable accommodations, and guests of all ages will discover an abundance of services and activities sure to deliver an unforgettable vacation! 324 air-conditioned suites.
Puerto Vallarta
Canto Del Sol Plaza Vallarta - Rating 4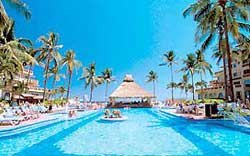 Plenty of activities await you at the Canto del Sol Plaza Vallarta. Home of the Canto del Sol Plaza Tennis Club, this resort features eight tennis courts along with water sports, aerobics, volleyball, windsurfing and much more. On the Las Glorias Beach, next door to the Villas Vallarta shopping center. 430 air-conditioned rooms.
Grand and Club Marival - Rating 5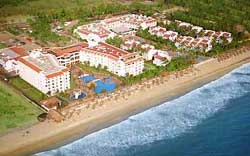 The perfect escape for families, Grand & Club Marival is a massive All-Inclusive resort stretched along an extensive sweep of prime Vallarta waterfront. Enjoy a great beach perfect for watersports, play a game of tennis on one of four outdoor courts, or take part in one of many organized games and activities offered throughout the day. There's plenty to do whether lounging in the sun, swimming in the pool or visiting the sights of Puerto Vallarta; and children will enjoy their own playground, pool, and supervised activities program. Tantalize your taste buds at the lavish outdoor buffets, and experience the excitement of Cesar's Club Disco, where there's no cover charge for hotel guests. 646 air-conditioned rooms.
Holiday Inn Puerto Vallarta - Rating 4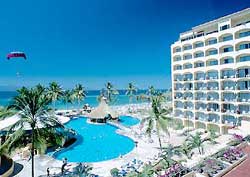 Set on 90 meters of palm-lined golden sand beach, this modern resort offers comfortable accommodations and a playful atmosphere. At the Holiday Inn Puerto Vallarta, you'll enjoy two restaurants, four bars, nightly entertainment and a choice of daily activities. This resort is located at the northern end of Banderas Bay, in the heart of the hotel district. It is approximately a ten-minute drive from downtown and only five minutes away from the airport. 375 air-conditioned rooms and suites.
La Jolla De Mismaloya - Rating 6 Golden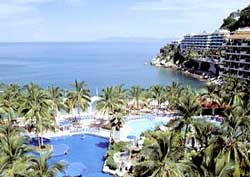 This deluxe all-suite resort complex is located on the beach overlooking Mismaloya Bay, 12 minutes from town. On-site is Cerro de la Iguana (hill of the Iguana), location of the famous movie set where Richard Burton and Elizabeth Taylor fell in love. It's a beautiful spot to enjoy delicious seafood, marvel at beautiful sunsets, or take advantage of 24-hour room service. An Optional All-Inclusive Plan is also available, with all meals, snacks, unlimited domestic drinks and non-motorized watersports. 303 air-conditioned ocean view suites.
Marriott Casa Magna - Rating 6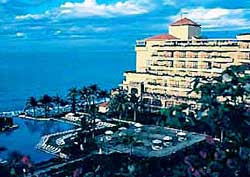 Located in the exclusive Marina Vallarta area, this magnificent beachfront resort is Vallarta at its best! Surrounded by a luxurious atmosphere of modern elegance, this beautiful resort offers excellent dining choices, comfortable accommodations, and an array of activities. Pamper yourself with all the amenities you have come to expect from Marriott. Walk to the nearby championship golf course, or visit the marina for charter boats, scuba diving, sailboats and deep-sea fishing. The Mikado Japanese Steakhouse and Champions Sports Bar are among the best in Puerto Vallarta. This is the perfect choice for honeymooners! 433 air-conditioned rooms.
Melia Puerto Vallarta - Rating 5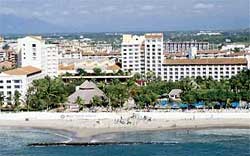 This all-inclusive oceanfront beach resort is a couples and family paradise located in exclusive Marina Vallarta, minutes from downtown and the airport. Enjoy daily activities for adults and children, fabulous nightly shows or relax by the largest pool in Vallarta. The hotel is a beachfront property with an ideal pacific beach and a wave breaker that helps to assure calm waters.
Punta Cana
Palladium Bavaro - Rating 5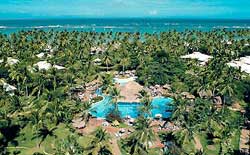 A mile of magnificent white-sand beach sweeps along the Caribbean Sea, the setting for the Palladium Grand Resort. The location doesn't get better than this, for Bavaro Beach is why Punta Cana has become the 'Number One Beach Destination.' The Resort is placed in unspoiled beauty of cascading feathery fronds of hundreds of coconut palms and on a carpet of lush tropical gardens. An off shore reef, with sunlit whitecaps of gentle waves, creates a coral barrier around smooth turquoise water. Swimming, snorkeling, sailing -- are the pleasures.
Caribe Club Princess Resort and Spa - Rating 4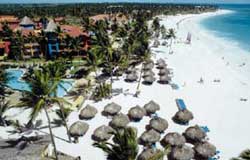 On a beautiful expanse of white beach, swept with coconut palms the sister hotel to Bavaro Princess is part of a Spanish chain of Resorts. One enters into a spacious open-air lobby with a huge thatched covering, polished floors, gigantic iron-crafted seashells which serve as lights at the front steps. As one walks through to the other side, there is an expanse of sprawling lawns and a small replica village with shops in pastel Caribbean style design, including a typical little Dominican house which bears the sign, " Internet." A pathway through natural mangrove and tropical foliage takes one to another vast opening with a long languishing pool and the hotel section with vibrant earth colors of rusts and lemon. Individual restaurants, each with it's own distinction and theme, seemingly create a little row of dining options. Like strolling along a street within the gardens.
Features: Large swimming pool with swim-up bar. *Guests of the Caribe Princess have exchange privileges with the Tropical Princess next door, which offers 2 more swimming pools, and specialty restaurants Brazilian and *Dominican (*mentioned above).
Riviera Maya
Palladium Grand Resorts - Rating 5 Golden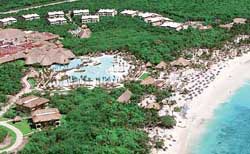 Designed by renowned architects known for Iberostar and Paradisus hotels, this beautiful Resort was integrated with nature, literally carved through tropical foliage fronting a long beach. As the newest of the Ibiza - Spanish hotel group with 40 Resorts, the accent is on space and openness, non crowding and horizontal flow. There are 4 swimming pools, one as large as a lagoon, plus adults only, kids and activity/sports pools. .Emphasis is on dining, quality food & beverage. Imagine 7 restaurants, 4 a la carte with Mexican, Oriental, Mediterranean plus a steak house and 3 buffet restaurants with continental, local and Creole cuisine. Several choices of bars for relaxation or dancing at the nightclub/disco. Activities include 6 tennis courts, a multi-activity court, dive center, non motorized water sports and snorkeling, plus a fitness center with a Steam Bath.
Gala Resort Playacar - Rating 5 Golden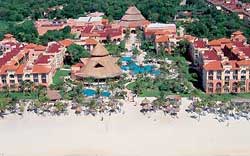 Come to do it all...or nothing at all. Gala Resort Playacar is an exceptional All-Inclusive beach resort set along a wide stretch of glorious white sand caressed by the turquoise blue of the Caribbean Sea. Spend long, peaceful days steeped within the refreshing waters of one of four gorgeous swimming pools, including a separate pool area set-aside exclusively for adults. Enjoy an exciting variety of on-site watersports at no extra charge, or try your hand at a game of tennis on one of four floodlit courts. Kids and teens enjoy carefree days with new friends and peers at their own separate clubs and activity centers. Savor delicious Italian and Mexican cuisine at two remarkable specialty restaurants, with no restrictions on the number of nights you choose to dine at either (reservations are required). Elegant, welcoming, comfortable, and priced just right! At the Gala Resort Playacar, everything is provided for your enjoyment & pleasure...everything. 460 air-conditioned rooms.
St. Thomas
Bolongo Bay Beach Club - Rating 4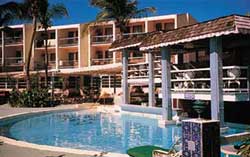 This casual, Caribbean-style beachfront resort is located on beautiful Bolongo Bay Beach. Enjoy two open-air restaurants, two bars, two swimming pools, a swim-up bar, water sports, tennis, beach volleyball, basketball and local entertainment. Explore the clear Caribbean waters with the St. Thomas Diving Club, a PADI 5-star facility available at an additional cost. At Bolongo Bay Beach Club & Villas, fun packed days and romantic evenings make the ultimate vacation experience. 65 air-conditioned rooms.
St. Maarten
Le Flamboyant - Rating 4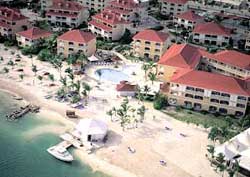 The perfect setting to unwind and forget, Le Flamboyant Resort is a classically designed, colonial-style resort ideally located on Nettle Bay. Explore the array of on-site activities, relax within one of two mirror-style swimming pools, or visit the duty free shops in the nearby town of Marigot. And when the sun goes down, the nightclubs light up! Optional All-Inclusive Plan is also available, featuring breakfast, lunch, dinner and unlimited drinks. 271 air-conditioned rooms.
Family Vacation Tips
Include your family in the planning process. Find out what is important to all family members and try to find a resort that will meet these expectations.
Let the kids pack a few of their favorite toys in their own small carry on luggage.
Bring snacks and drinks on the flight, in case the little ones do not like what is offered onboard.
Have a "meeting place" in case you get separated from each other.
Let the children take their own photos with disposable cameras, and make a scrapbook when you return home.
Have a "souvenir allowance" for the kids.
Bring plenty of extra clothes for the little ones. This could cut down on time spent in the laundry room while on vacation.
Let each child pick a "must see" attraction.
Consider a little "grown up" alone time. Most resorts and cruises offer child care services.
Single parents traveling with children may be asked for proof of custody. Be prepared with copies of legal custody papers or even a simple notarized letter from the co-parent.
Be sure to have your travel documents in an easily accessible carrier. You will be asked to show these documents on several occasions.
Make photocopies of your itinerary, ID's and required travel documents.
Make sure all of your children, including infants have a copy of your itinerary on their person along with the name and phone number of an emergency contact person.
Should your flight get canceled or if you miss a connecting flight, use your cell phone or a pay phone and call the toll free customer service number for your airline. Often this can save you waiting in line with hundreds of other stranded, stressed out passengers.
Pack as if you are departing the day before your actual departure date. This will allow for a good nights sleep prior to your actual departure date. Make a checklist of needed items and mark them off your list as you go.
Call the airline to reconfirm your flights on the day of departure to prevent any surprises at the airport.
Required Documents for Travel
Make sure you have the required documents for travel. Do not start your vacation with a mad scramble to find the required documents prior to departure. If you are not sure what is required be sure to ask your travel agent or visit the U.S. Department of State site for details.